Here are some sources for information about Washington Cemetery interments. All of these sources should be consulted, as there are differences among them and omissions in all of them.
Washington Cemetery at FindAGrave.com
Most marked graves are included.
Unmarked graves are incomplete, but burials are still being added.
Burial records at Glenwood Cemetery online
Washington Cemetery burial records are combined with Glenwood Cemetery burial records and updated frequently by Glenwood staff.
Clayton Library Center for Genealogical Research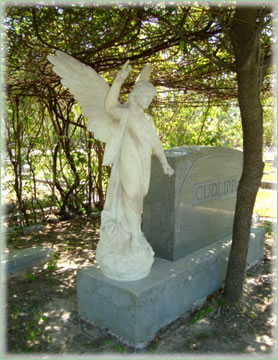 Microfilm of original Washington Cemetery records:
Washington Cemetery, Formerly Deutsche Gesellschaft Cemetery (German Society Cemetery), 1887-1977
Format: Microfilm Rolls #01-02
Notes: Cemetery located in Houston, TX. These Rolls Include: Plat Maps, Burials by Plot, Name and Date, Lot Owners, German Society Monthly Meetings (German and English), and Obituaries. At End of Roll 2 a Casualty List of Texas WW II Soldiers by City and Photographs of Houston's.
The following three books are available at Clayton Library and in the Texas Room at the Houston Metropolitan Research Center (HMRC).
Old Washington Cemetery: located 2911 Washington Avenue, Houston, Texas; originally known as German Society Cemetery, Deutsche Gesellschaft of Houston, researched and written by Carl Kenneth Sheffield
[Houston, 1979]
Copy of original burial records up to March 1978.


Washington Cemetery, Houston, Harris County, Texas (1806-1956), copied by Mrs. Ross Brinley for Samuel Sorrell Chapter; retyped by Miss Katherine Reynolds. Daughters of the American Revolution. Texas Society. Samuel Sorrell Chapter (Houston, Tex.), 1975. Headstone inscriptions only. [Note: The dates refer to dates found on headstones, not burial dates. The inscriptions were copied in 1957-58.]


Washington Cemetery Centennial Book: A History of the German Society Cemetery of Houston, Texas: containing plat maps showing location and owner of all cemetery lots and selected biographies of over 850 persons buried therein, compiled by Concerned Citizens for Washington Cemetery Care, Inc. Houston, Tex.: Concerned Citizens for Washington Cemetery Care, Inc., 1988. Out of print.
Questions can be sent to BurialRecords@WashingtonCemetery.org.
A volunteer will respond as time allows.